Consulting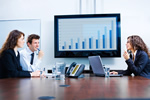 MAGOE-Consulting is a specialized entrepreneur-consultancy.

The company is led by Mario P. Goerner, a marketing- and sales management expert with more than 25 years of experience in Germany, the US and Asia.
Therefore one of the main tasks of MAGOE-Consulting is the conception and realization of marketing- and sales concepts.
MAGOE-Consulting develops marketing- and sales strategies and creates and implements the respective campaigns.
Within the sales strategies one special focus is on permanent acquisition of new customers by means of:
telemarketing
direct sales activities, such as establishing new sales teams,
training of sales teams and personal support.
Besides the acquisition of new customers, we are also focussed on retaining existing customers and carrying out CRM-concepts.
Our clients range from various segments like logistics, automotive, event-businesses, service-companies, etc.
However, the bulk of our business-contacts is to smaller- and mid-sized companies, eager to seek improvement.
The most important thing is not the size of the company, but the willingness of the management, to improve something; especially within sales.
Whatever size your business; the first contact will always be with Mario P. Goerner, the founder of the company, who works as chief strategist and project team leader.
He is looking forward to hearing from you!